Shepherd's Pantry is Grateful For All Your Donations
We are very thankful for the incredible continued outpouring of support from this community with donations of non-perishable food items and cash.
Cash donations are used to buy milk, fresh produce and eggs for our families in addition to non-perishables.
Our Food Bank Purchases
If you are thinking of buying food to donate to the Pantry please note that we can purchase food at area Food Banks at very favorable prices. As a Food Bank Member we can usually purchase at least three times as much food per dollar from the Food Banks than at area supermarkets.
Donate Now
Checks can made payable to Shepherd's Pantry, Inc and mailed to:
Shepherd's Pantry
1 Church Rd
Windham, NH 03087
Make your online donation using the form below
Food & Personal Care Items
Your donations may be dropped off at the following locations:
St. Matthew's Church Parish Hall
2 Searles Rd
Windham, NH 03087
Hours:
Monday through Thursday from 9:00am – 4:00pm
Also open to parishioners after Masses
Shaw's Supermarket
43 Indian Rock Rd
Windham, NH 03087
Hours:
Donations can be placed in box located inside store during regular store hours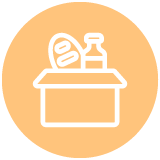 pasta
baked beans
canned chicken
healthy cereal
rice
mac and cheese
canned soup
canned meals (beef stew, hash)
small cans of tomato sauce
baby wipes
toilet paper
liquid laundry detergent
diapers- size 4, size 5, size 6 and 3T-4T, 4T-5T
Become a Supporter
Get Involved with Shepherd's Pantry
Interested in getting your company or organization involved with Shepherd's Pantry? Whether you are interested in weekly donations of food and/or personal care items or hosting a food drive or fundraising event, we would love to work with you.
Thank You to Our Supporters
Shepherd's Pantry of Windham would like to thank those in the New Hampshire Community who provide goods, discounted services and/or money. Without the support, kindness and generosity of these local organizations the Pantry would not be able to be successful.
Avise Properties
B&H Oil Company
Balance Rehabilitation & Therapy
Bill DeLuca Family of Dealerships
Black Moose Country Store
Cyr Lumber
Derry-Salem Elks
DiPietro Group Real Estate
Donabedian Bros.
Enterprise Bank
Freihofer's Bakery, Hooksett
Greater Salem Contractors
Greater Salem NH Rotary Club
Hannaford Supermarkets
Happy Feet Dance School
Heavenly Donuts
Homefree Treats
Howie Glynn & Sons
Kids in Service
Klemm's Bakery
Klemm's Mobil
Le Macaron French Pastries
Londonderry Rotary Club
Mack's Orchard
Market Basket
Mechanical Systems, Inc.
Merrimack County Savings
Merrimack Valley Trail Riders
Padrick & Vernon Equipment LLC
Pedego Electric Bikes, Salem
Peters Farm, Salem
Quinn Sendall, Graphic Design
Salem Area Special Needs
Santo Insurance
Sierra Pacific Mortgage
Shaw's Supermarkets
St. Mark the Evangelist Church
St. Matthew's Church
St. Matthew's Knights of Columbus
The Exchange Club of Salem
The Kelleher Family
The Shirt Factory, Salem
The Windham Restaurant
Town of Windham
Tuscan Brands
Walmart: Salem
Windham Boy Scouts Troop 521
Windham Co-Operative School
Windham High School
Windham Library
Windham Lion's Club
Windham Muslim Community Center
Windham Orthodontics
Windham Police Department
Windham Presbyterian Church
Windham Woods School
Women's Service Club of Windham
100 Women Who Care
*Turkey Trot Sponsors are shown in Red
Avise Properties
B&H Oil Company
Balance Rehabilitation & Therapy
Bill DeLuca Family of Dealerships
Black Moose Country Store
Cyr Lumber
Derry-Salem Elks
DiPietro Group Real Estate
Donabedian Bros.
Enterprise Bank
Freihofer's Bakery, Hooksett
Greater Salem Contractors
Greater Salem NH Rotary Club
Hannaford Supermarkets
Happy Feet Dance School
Heavenly Donuts
Homefree Treats
Howie Glynn & Sons
Kids in Service
Klemm's Bakery
Klemm's Mobil
Le Macaron French Pastries
Londonderry Rotary Club
Mack's Orchard
Market Basket
Mechanical Systems, Inc.
Merrimack County Savings
Merrimack Valley Trail Riders
Padrick & Vernon Equipment LLC
Pedego Electric Bikes, Salem
Peters Farm, Salem
Quinn Sendall, Graphic Design
Salem Area Special Needs
Santo Insurance
Sierra Pacific Mortgage
Shaw's Supermarkets
St. Mark the Evangelist Church
St. Matthew's Church
St. Matthew's Knights of Columbus
The Exchange Club of Salem
The Kelleher Family
The Shirt Factory, Salem
The Windham Restaurant
Town of Windham
Tuscan Brands
Walmart: Salem
Windham Boy Scouts Troop 521
Windham Co-Operative School
Windham High School
Windham Library
Windham Lion's Club
Windham Muslim Community Center
Windham Orthodontics
Windham Police Department
Windham Presbyterian Church
Windham Woods School
Women's Service Club of Windham
100 Women Who Care
*Turkey Trot Sponsors are shown in Red